(And One For the Weirdest Year of Our Lives: 2020)

From village schools to wall street, plenty of people have wanted to have their very own time capsule. It gives you a chance to preserve your place in history and share what your life was like for future generations. And opening a time capsule is just as fun! It gives us the chance to see how much society has changed, understand our history a bit better and sometimes, just be very confused by old fashion choices! You might not be surprised to learn this but as storage is what we do at Bingham Self Storage, we find time capsules very interesting. After all, it's essentially very long-term storage. Here we're going to look at some of our favourite time capsules from around the globe.
We've also, just for fun, created our very own 2020 time capsule to sum up the strangest year of our lives so far.
The Nickelodeon Time Capsule
Buried: 1992 | To be opened: 2042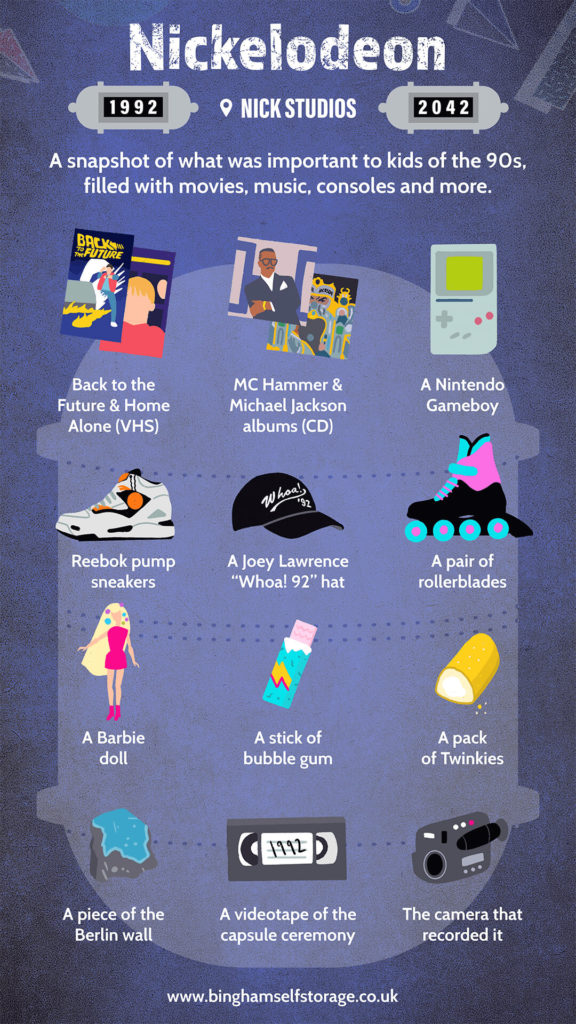 Nickelodeon isn't just famous for its bright orange colour scheme and annual sliming of celebrities at the kids' choice awards. It's also one of the most well-known modern time capsules.
The time capsule was buried as part of a special live broadcast in 1992 to commemorate Nickelodeon's first production studio opening. The contents involved everything an early 90s child could dream of including rollerblades, a Nintendo Gameboy and a VHS of Back to the Future and Home Alone. Heck, those of us who were children in the 90s would probably still love all these items now!
The time capsule is planned to be opened officially in 2042 on its 50th anniversary but it has, unofficially, been opened in 2005 when it was moved to a new location.
The White House's Millenium Time Capsule
Buried: 1999 | To be opened: 2100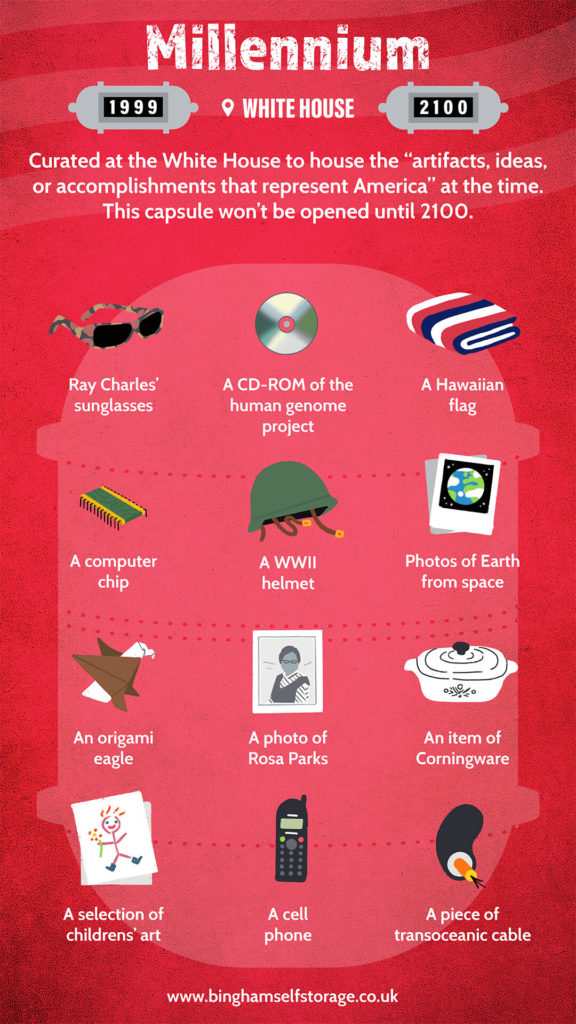 The White House decided to commemorate the millennium by creating a time capsule that they felt represented America at this monumental time in history. Focusing on important cultural moments and items of the last one hundred years. Included in the time capsule was a photo of civil rights activist Rosa Parks, a WW2 helmet and Ray Charles' sunglasses.
To showcase the technology of 2000, they also included a cell phone and a transoceanic cable. Perhaps the sweetest addition was a selection of children's art, proving that parents will always want to show off their children's work, even if they need to wait 1000 years to do it!
Wall Street Time Capsule
Buried: 1914 | To Be Opened: 2014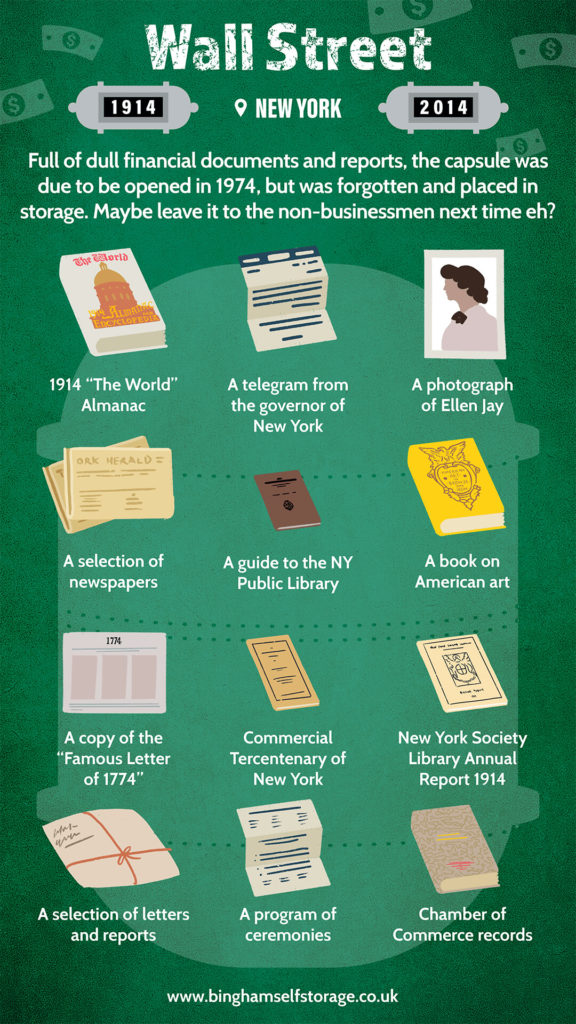 The Wall Street Time Capsule was designed to showcase the financial world of the early 20th century. Filled with newspapers of the time, a guide to the NY Public Library and a book of American Art – this helped showcase not only what financiers of the time were doing, but the culture they lived in.
It was initially supposed to be opened in 1974, 60 years after the bronze chest was put away, it was accidentally mislaid and then forgotten about until it was accidentally rediscovered in 2014. Better late than never, we suppose!
Panasonic Tokyo Expo
Buried: 1970 | To be opened: 2000 & 5970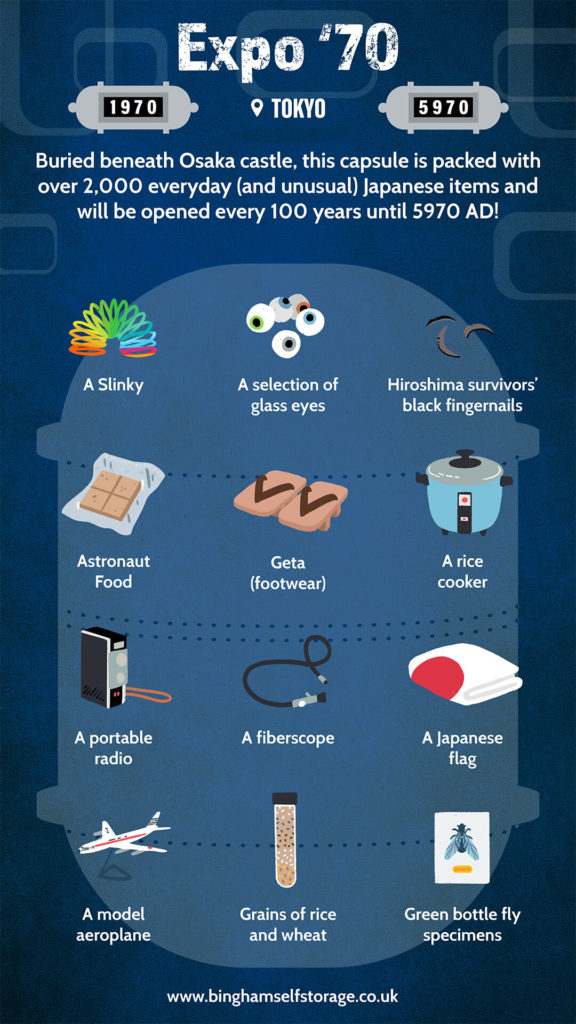 At the 1970 Tokyo Expo, they buried two-time capsules on the grounds of Osaka castle. The first time capsule was opened in 2000 before being reburied and it will then be reopened every 100 years. This means items can be added to incrementally show how culture has changed in Japan through the 21st Century.
The second time capsule isn't intended to be opened until 5970! This will be opened by our far-far descendants and it's impossible to know if any of these items will even be recognisable! Everything may be VR by this point and items like a slinky will be a long-forgotten relic!
New York World Fair Westinghouse Time Capsule
Buried: 1939 | To be opened: 6939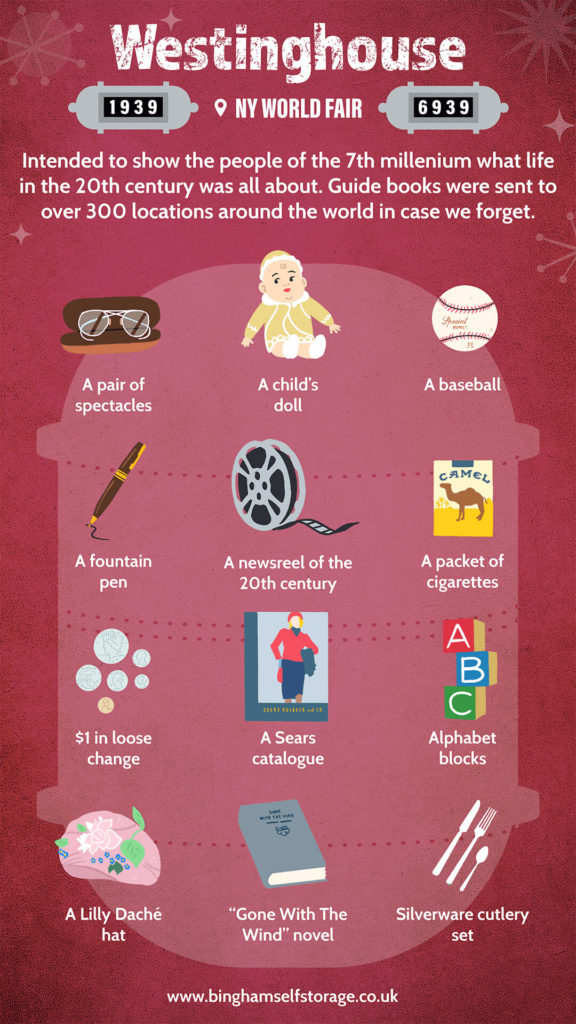 Like the second Tokyo Expo time capsule, the Westinghouse time capsule was buried to show our Jeston family descendant's what life in the 20th century was like. Because it isn't intended to be opened until the distant, distant future the NY World Fair sent out 300 guidebooks so that the location wasn't forgotten. Maybe the 1914 Wall Street Time Capsule should have thought about something similar so that it didn't get lost in storage…
This capsule included a hat by the iconic milliner Lilly Daché, a newsreel of the 20th century, Gone with the Window, and, naturally for the time, a pack of smokes.
And finally…
The 2020 Time Capsule
Theoretically buried: 2020 | To be opened: Never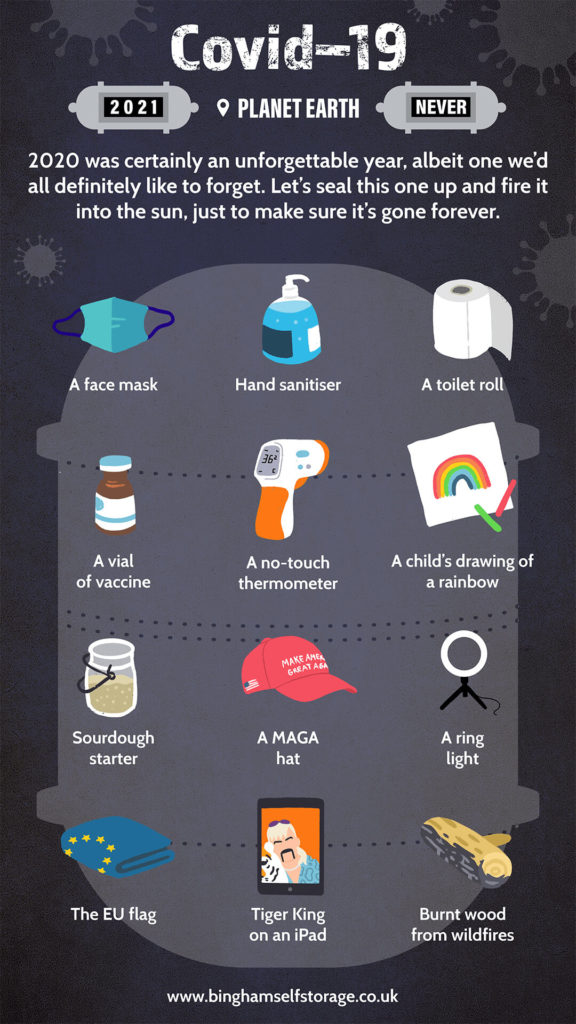 So, 2020 was a bit weird, right? There was a global pandemic, numerous natural disasters, Brexit happened and Tiger King was the biggest meme going.
We weren't entirely sure it was a year we wanted to commemorate but, in the end, for many of us, this is going to be one of the most significant years of our lives. The global pandemic kept us in our homes for almost a year where we missed loves ones, lost jobs, discovered new hobbies, made new online friends and learned we can survive pretty much anything.
With wildfires, social unrest and illness defining much of 2020, it may not be a year we look back on with fondness but it is one worth remembering nonetheless.
_____
We hope you've enjoyed learning about some of history's most famous time capsules as much as we enjoyed researching them! While we can't promise you 5000-year storage, Bingham Self Storage has various storage options at our self-storage facility in Bingham, Nottinghamshire to help you free up some space whether you're moving, redecorating or travelling for a while.

Get in touch with us today to find out more.