Decluttering our homes can be harder than many people expect. That's why it's great to take ideas and inspiration from other cultures. There are so many tips we can pick up from the way things are done in different countries, and you might not have thought of them yourself.
It's not much of a surprise to learn then that nation has spent more money and effort on cleaning and transforming their homes during the pandemic. With more time spent at home, many people have sought to streamline their living environment. Studies show that £55 billion was spent on renovations during lockdown, averaging out at just over £4,000 per household. We've seen first-hand how homeowners have decluttered their homes and moved goods into storage as they get round to clearing out. Whether creating a home office or just a more pleasant living space, decluttering is great for our mental health.
With a keen focus on changing up your décor and a need to unearth as much space as possible within your home, we decided to put together some inspiration to help with your renovations. We have gathered decluttering tips from across the globe to show you how other countries utilise their interior design to make the most of their space.
UK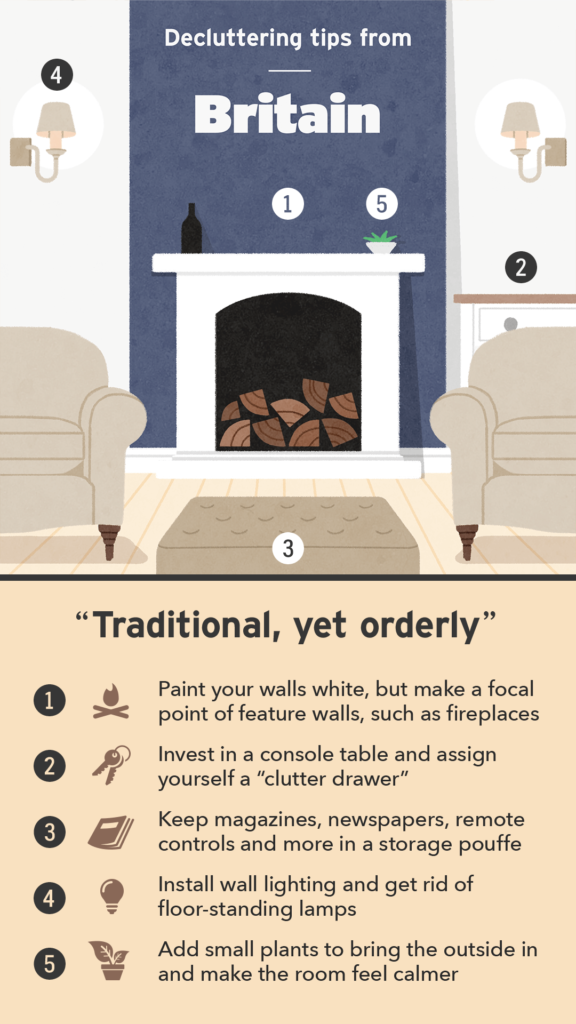 Let's start off with tips from households across the UK because let's face it, we love to see what our neighbours are up to. British interior design space saving tips include:
Store magazines, newspapers and remote controls in a storage pouffe.
Purchase console tables to garner extra space. The drawers are ideal for storing excess clutter.
Paint walls white but have a feature wall that either is painted with a darker colour or wallpapered.
Get rid of floor lamps and install wall lighting to free up space and make rooms feel lighter.
Add calm zen to your home with the addition of small plants.
USA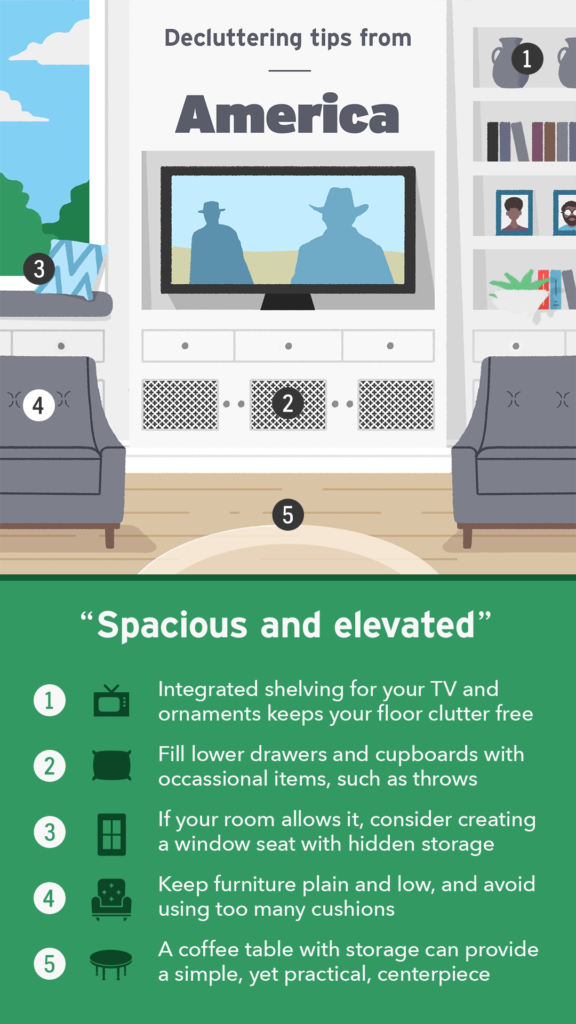 US homes utilise integrated shelving to keep floor clutter at a minimum. Tips include:
Utilise wall space to store throws, books and ornaments. Look at built in bookshelves and bespoke shelving unit designs to help you elevate your clutter.
If you have wider windowsills, add cushions to create cosy hidden window seats.
Keep furniture plain and low and avoid excess cushions.
A coffee table with storage makes a perfect centrepiece and also has more space for clutter.
Scandinavia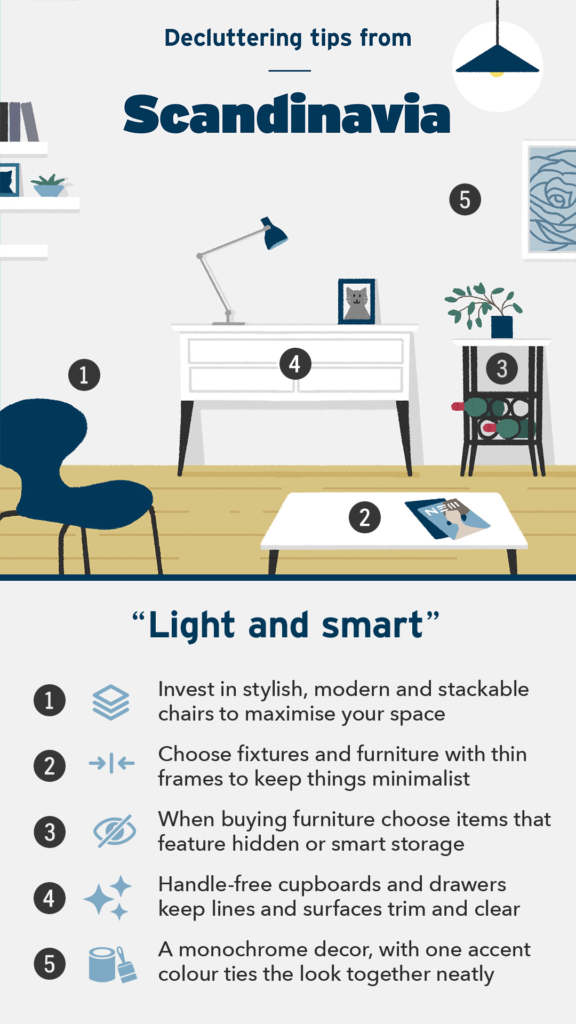 Scandinavian minimalism is a popular interior design concept and below are some tips on how you can incorporate their style into your home:
Choose light furniture pieces with thin frames to keep things minimalist.
Opt for items with hidden storage to help reduce visible clutter.
Carefully choose stackable chairs to maximise space and present more flexibility.
Monochrome décor with a small hint of one block colour is the most common colour scheme.
Get rid of door furniture to keep cupboards looking clean.
Japan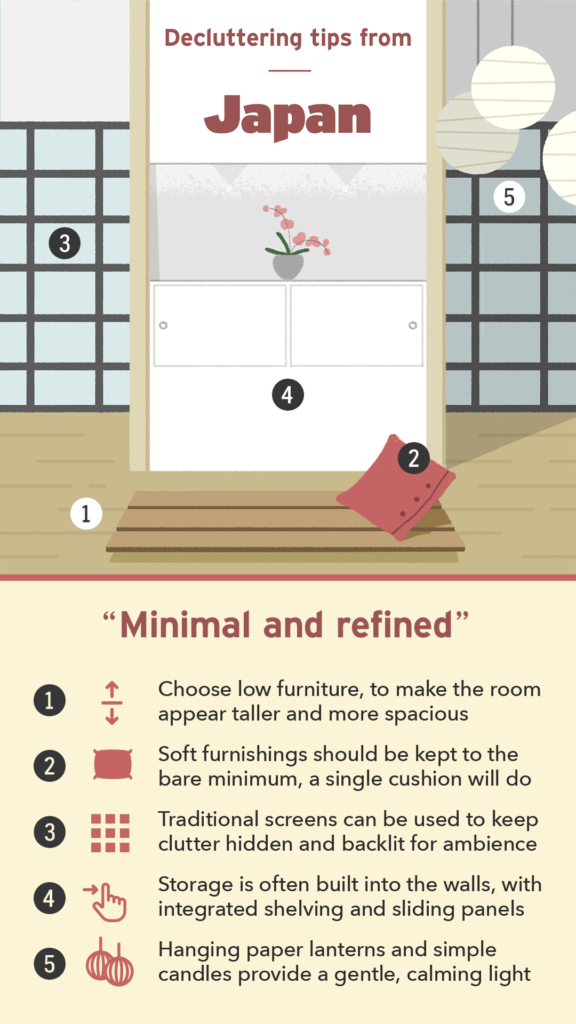 The work of Marie Kondo has made Japanese interior design increasingly popular for space-saving tips.
Wall shelving units are a popular storage option.
Minimise the amount of soft furnishings in the home, a single cushion will suffice.
Choose low furniture to help make the room appear taller.
Screens can be utilised to break up rooms, hide clutter and create an ambience.
Hanging paper lanterns and simple candles provide a gentle, calming light.
Mexico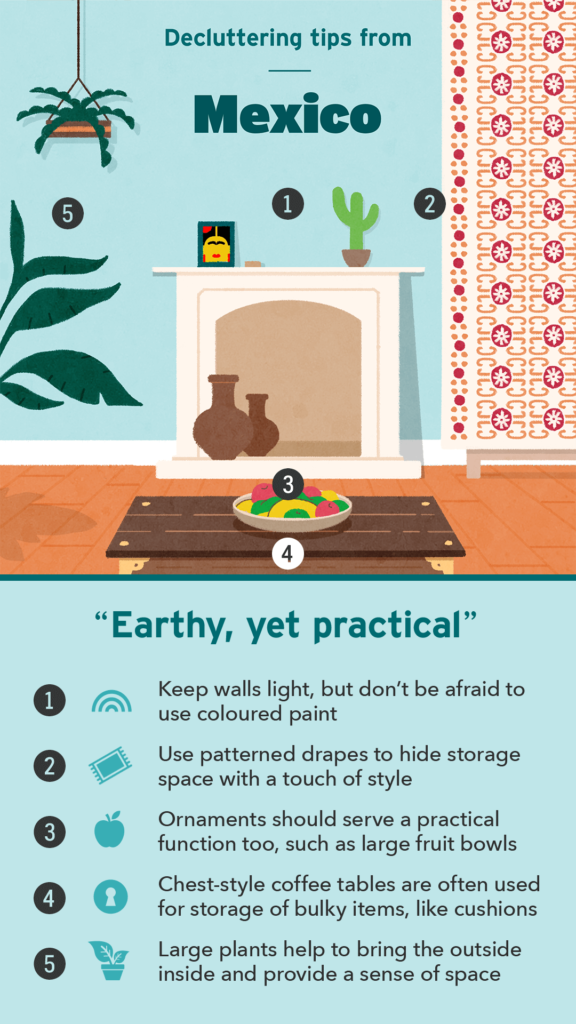 If you like more colourful designs but still want to embrace minimalism, Mexico's interior design is one to look into.
Keep walls light but don't be afraid of colour. Just opt for lighter hues.
Patterned drapes are practical as they can cover up clutter but they also add a stylish edge to rooms.
Embrace multi-functional ornaments. Decorative pieces should offer storage solutions also.
Chest style coffee table can be used for bulky items like throws and cushions.
Large plants bring the outside in but also create a sense of space.
We hope our decluttering tips from around the world have given you some inspiration for your home. If you need further help decluttering we have various storage options available at our self-storage facility to help free up room within your home. Get in touch to find out more about our storage options.