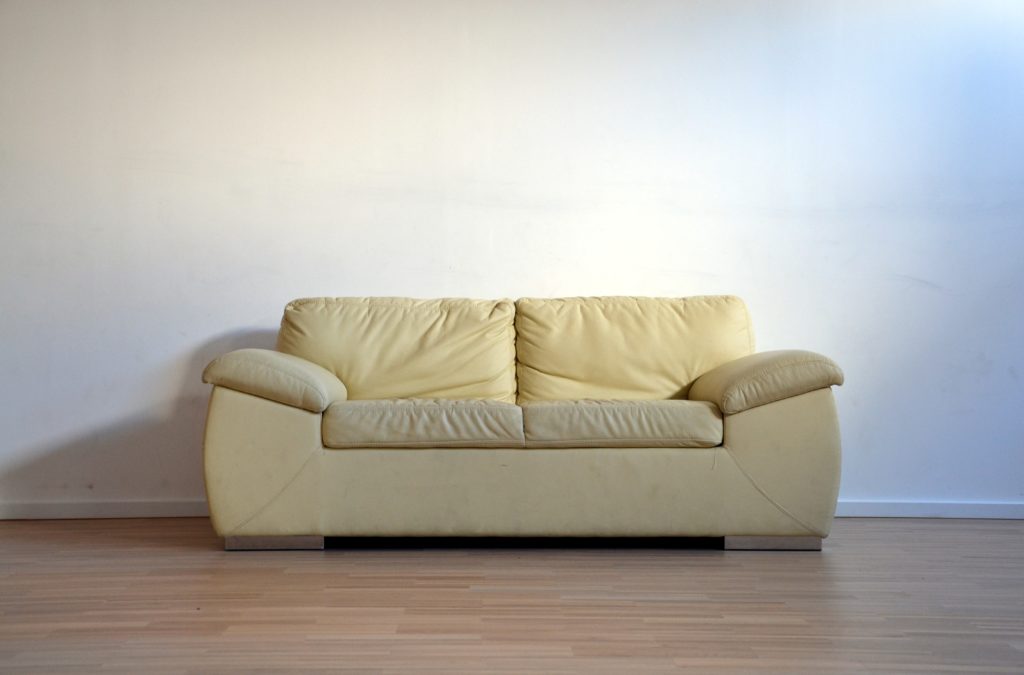 So you've chosen your self-storage unit and you've decided what you want to store. Great! But what is the best way to store each of your items to keep them pristine whilst you don't need them? We have a few handy tips for preparing some of the larger household items.
How to Store a Sofa
Begin by cleaning your sofa using a liquid specifically designed for the type of fabric. For a leather sofa it's also a good idea to use a leather conditioner. Allow it to dry completely as any damp can lead to mould growth.
If you are able to, remove the legs and wrap them in plastic, bubble wrap or a bag.
You have two options for wrapping the sofa. If it is fabric we recommend wrapping it in waterproof plastic, or purchasing plastic furniture bags. For leather sofas, plastic is not the best option as it can encourage mildew, instead, wrap your sofa carefully in cotton sheets.
Place the wrapped sofa onto pallets in your storage unit, or place plastic sheeting on the floor to prevent damp.
Don't place any items on top, as this can damage and dent the sofa.
How to Store a Television
Remove any cables that can be disconnected and seal them into a plastic bag, coiled lightly.
Carefully place the television into a box, use the one it came in if you still have it.
Fill the rest of the box with Styrofoam pieces, and add the wrapped cables.
If you are concerned about damp, you can also add silica gel packets.
Seal the box well with packing tape and place it on top of plastic sheets to further avoid damp.
Always store TV's and monitors the correct way up and never on their back.
How to Store a Mattress
Wrap the mattress with either plastic wrap, or if you can, purchase a furniture bag to slip over it.
Ensure this is well secured with plenty of packing tape to prevent damp or insect infestations.
If you have the option, try and store the mattress flat to avoid pushing the springs into the wrong place
How to Store Wooden Furniture
We recommend treating any real-wood furniture with special furniture polish or oils before placing it in storage.
If you can remove any furniture legs or deconstruct units, this can be a good way to reduce the space they take up.
Use furniture pads or fabric to cover furniture in order to prevent scratches.
You can then choose to wrap your wooden furniture in plastic, but avoid wrapping it tightly with stretch wrap or Clingfilm as this can encourage damp. You can place charcoal into drawers and units to help prevent damp.
Place the furniture on top of wooden pallets or plastic sheeting.
How to Store a Fridge
Remove anything from inside and allow the fridge/ freezer to completely defrost.
Remove the shelves, boxes and trays. Clean them with warm water and soap, kitchen cleaner or antibacterial spray.
Clean the inside with the same cleaners, or add some baking soda for the best results, before drying thoroughly.
Unhook any drain lines and plugs, then make sure any water is drained from the fridge before moving it. We recommend checking the manufacturer's guidelines for this part to ensure it's done correctly.
Pull the fridge away from the wall and wipe down any dusty or dirty areas.
Shut the doors and wrap electrical tape around the fridge horizontally to ensure the doors stay closed. If you want to further prevent the chance of damp, pop a cotton bag or sock filled with baking soda into the fridge before closing it to draw in any moisture.
Use a dolly to help move the fridge to your storage unit and make sure to store it upright on top of plastic sheeting.
You can wrap the shelves and other components in plastic or bags, but don't store these inside of the fridge.